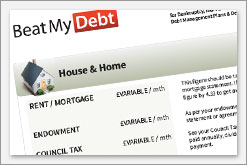 If you are applying for Bankruptcy you will need to complete a monthly living expenditure budget as part of your application. This is a list of all of the reasonable living expenses that you incur every month.
It is very important to get this budget right because the expenses you record in your application will be used by the Official Receiver to work out whether or not you can afford to make a monthly payment towards your debts.
If you underestimate the amount you spend on any of your regular living expenses or miss some expenses out completely your total budget will be too low. Then when this is deducted from your income the amount left (your disposable income) will be too high and the Official Receiver will ask you to pay more than you actually can afford.
BMD Tip: If you are asked to make payments which you cannot afford because they are based on a disposable income figure which is too high you must speak to your Official Receiver and explain that you need to submit a revised expenses budget based on more accurate figures.
How to get the Bankruptcy Living Expenses Guide
To get an accurate view of which types of living expenses are reasonable and to make sure that you include all allowable expenses in your budget you should download the BeatMyDebt.com living expenses guide.
The guide lists all of the different types of expenditures you should consider when completing your monthly budget together with hints and tips about the budgets which you will have to stay within to ensure that they are acceptable to the Official Receiver.
You can download the guide by submitting your e-mail address here:
How to use the Bankruptcy Living Expenses Guide
When you use the guide to help you put together your living expense budget you may feel that some of the figures  seem restrictive. Despite this they are known to be generally accepted by the Official Receiver and so if you want budget to be agreed you should try stay within the figures shown for each category.
Having said that as its name suggests the  guide MUST be used for guidance purposes only. Every individual's situation is different and the actual figures acceptable to the Official Receiver in each category may be higher or lower than those indicated depending on your circumstances.
BMD Tip: If you feel that you need to spend more than the recommended amounts you should always include these figures in your budget. However you must be prepared to justify any additional expenditure and understand that you might be asked to reduce these if they are not acceptable to the Official Receiver.
Once you have put together your living expenses budget you should speak to one of our experts who can help you decide whether or not it is reasonable and if Bankruptcy is a sensible solution for you.
Arrange a call with a Bankruptcy Expert