Are you struggling with debt? Would you like to get the right solution in place to sort the problem out once and for all? My team and I are here to help you do just that.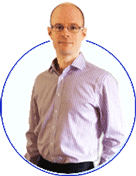 My name is James Falla and I am the Managing Director here at BeatMyDebt. I have over fifteen years of experience working with people and small businesses to solve their debt problems. During this time I have helped 1000s of individuals to get out of financial difficulty by using Debt Management Plans, Individual Voluntary Arrangements and Bankruptcy.
I write many of the articles published on this website and am the author of the well received book about dealing with debt: IVA, Bankruptcy and Other Debt Solutions.
On numerous occasions I have also been called upon to offer my experience about resolving personal debt problems on television and radio programmes such as the BBC 1 o'clock news, Sky News and BBC Radio's Wake Up to Money.
I am hands on and work directly with many of our clients. In this way I make sure the service we provide is reliable so you can trust and count on us to ensure that you become debt free as soon as possible.
Please use the resources on this site or call us on 0800 077 6180 for more advice.