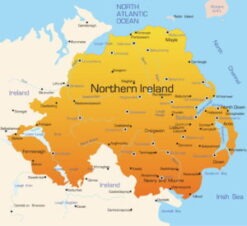 If you want to go bankrupt in Northern Ireland you must present your application to the High Court in Belfast.
Jump to article contents:
Want help to go bankrupt in Northern Ireland? Give us a call (0800 077 6180) or complete the form below to speak to one of our experts
Which Application Forms need to be completed to go Bankrupt in Northern Ireland?
The first step to going bankrupt in Northern Ireland is to complete the required application forms. You will need to fill out a Bankruptcy Petition (Form 6.30) and A Statement of Affairs (Form 6.31).
If you wold like a copy of these forms please send us an e-mail. Use the "E-mail our experts" button in the left hand column (or at the bottom of the page if you are using a mobile).
Form 6.30 (the Bankruptcy Petition Form) is relatively short. It is your request to the Court to be made bankrupt.
The Statement of Affairs (Form 6.31) is a longer 30 page document. In it you have to provide details about all of your financial circumstances including your debts, income, living expenditure budget and assets.
You must complete your Statement of Affairs correctly. The information you provide is used as a basis to determine what happens to your assets and whether you will be required to make payments towards your debts when bankrupt.
The Court cannot help you to complete your forms. If you would like further advice please contact us about our Bankruptcy Assistance Service.
How to pay your Bankruptcy Deposit
Before you present your completed bankruptcy application forms at the Court you must pay a bankruptcy deposit. This is currently £525 and is payable in all cases.
You can make this payment online via the Northern Ireland Department for the Economy's website. If you choose to do this you will also need to arrange for your completed form 6.31 to witnessed by a solicitor. This will normally cost an additional £7-£10.
Alternatively you can pay your deposit by taking cash to the Official Receivers office in Belfast (address below). Remember to take your completed application forms with you. An officer of the court will witness form 6.31.
If you visit the Official Receiver's office in person you can then walk round to the Royal Courts of Justice (c5 minutes walk) and present your application straight away.
The Official Receiver's office is located at: Fermanagh House, Ormeau Avenue, Belfast. BT2 8HY. Opening Hours: Monday-Friday between 9am and 5pm.
Presenting your Bankruptcy Application at the High Court
After your deposit is paid you need to present your completed forms to the Northern Ireland Bankruptcy and Companies Office at the High Court in Belfast (address below). You do not need to make an appointment in advance.
You must make sure you take the following documents to the Court:
4 x copies of form 6.30
1 x copy of form 6.31 (witnessed by a solicitor or officer of the court)
The receipt for your bankruptcy deposit paid
Given that your forms are in order you will be given a date and time for a Court Hearing. This will not normally be on the same day. As such you must be prepared to return to the court at a later date.
You will need to pay an additional fee at the Court. This is currently £127. If you are on a low income or are in receipt of certain benefits you may be able to apply for this fee to be waived.
The High Court is located at: Royal Courts of Justice, Chichester Street, Belfast. BT1 3JF. Tel: 028 9023 5111
Attending the Bankruptcy Court Hearing
On the date and time of your Hearing you must return to the Royal Courts of Justice in Belfast. The Hearing will be held in private with a Judge.
The Judge will consider your bankruptcy application. Normally they will also ask if you understand the implications of bankruptcy, whether you have taken advice and considered the alternatives such as an IVA.
Given they are happy that you understand what you are doing they will issue a Bankruptcy Order against you on the day. From that point you are a Bankrupt person.
The Judge cannot give you advice about whether Bankruptcy is the right solution for you or not. If you are unsure you should take advice from us before paying your Bankruptcy Deposit.
Your Interview with the Official Receiver
Once you are bankrupt you will be contacted by the Official Receiver (OR). They will normally want to arrange a date and time to have a telephone interview with you.
During the interview the OR will go through all the information you have provided in your Statement of Affairs (Form 6.31) so they fully understand your circumstances.
The Official Receiver may ask you to provide additional documentation such as bank statements, wage slips and proof of expenditures to support the information given in your Statement of Affairs.
The OR will then decide whether or not you can afford to make payment towards your debts. They will also consider how any assets such as your car and property (if you own one) will be treated.
Arrange a call with a Bankruptcy Expert
Privacy Policy
Your information will be held in strictest confidence and used to contact you by our internal team only. We will never share your details with any third party without your permission.