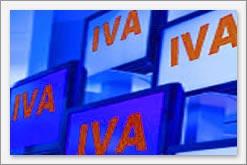 An Individual Voluntary Arrangement (IVA) allows you to settle your debt over a fixed period of 5-6 years. You pay reduced payments based on what you can afford.
What is an Individual Voluntary Arrangement?
The affects of an IVA. Is it right for you?
The cost of an Individual Voluntary Arrangement
How to start an IVA
Want help to start an IVA? Give us a call (0800 077 6180) or complete the form below to speak to one of our experts
What is an Individual Voluntary Arrangement (IVA)?
Is an IVA the right debt solution for you? How long does an IVA last? What happens to any debt which remains unpaid? Can you offer a lump sum to pay off an IVA early? To find out more please visit http://beatmydebt.com/individual-voluntary-arrangement/what-is-individual-voluntary-arrangement
What is an Individual Voluntary Arrangement?
A Individual Voluntary Arrangement allows the payments you make towards your debts to be reduced to a single affordable amount. The payments generally last for 5-6 years.
It is possible to carry out an IVA based on the payment of a single cash lump sum. This is useful if you cannot afford monthly payments but a lump sum is available.
Once the Arrangement is in place both you and your property are legally protected from your creditors. They are no longer allowed to take action against you or your home. Once it is finished any debt you still owe is written off.
The IVA solution is only available if you live in England, Wales or Northern Ireland. If you are living in Scotland you will need to consider one of the debt solutions available to you locally.
Is an IVA right for you?
You can only include unsecured debt in an Individual Voluntary Arrangement. Generally the minimum amount of debt required is £8000-£10,000. However there is no maximum debt level that can be included.
Secured debts such as your Mortgage cannot be included in an IVA. You must continue to pay these.
It is only possible to start the Arrangement if you can afford to maintain reasonable monthly payments towards your debts. If you are unable to do this an IVA might not be suitable unless you or someone on your behalf can make a lump sum available.
Generally speaking it will have no affect on your job. In addition assets such as your car will not be at risk. However if you are a property owner you need to understand the implications for your home.
An IVA will negatively affect your credit rating. Your ability to get new credit or other financial services will be seriously affected for at least 6 years.
The cost of an Individual Voluntary Arrangement
If you apply for an IVA you will pay absolutely nothing until it is set up and accepted. After this the only payments you will make are those agreed within the Arrangement.
The Insolvency Practitioner will charge two types of fees. These are called the Nominee and Supervisor's fees. However they are taken out of the payments you make. You do not have to pay any extra to cover their payment.
An advantage of an IVA is that you do not have to pay an up front fee. Your payments start once the Arrangement is agreed and in place.
How to start an Individual Voluntary Arrangement
To start an IVA you will need to complete a number of steps. First of all you will need to provide all the details about your financial situation. These are recorded within a financial statement.
Your financial statement must include information about your income, living expenses, assets and debts. Once prepared it has to be reviewed by an Insolvency Practitioner (IP).
The IP will require you to provide documents to confirm your financial circumstances. The amount you have to pay towards your debts will then be confirmed and the Arrangement proposed to your creditors.
In order for your IVA to be accepted 75% of your creditors who vote by value must agree to it.
Government Advice about Dealing with Debt
As well as the information found on this website the Government's Insolvency Service has produced a useful guide to personal debt solutions which you might also find useful: "In Debt – Dealing with your creditors".
The Money Advice Service (MAS) are an independent service set up by the Government to provide people with free advice about all aspects of personal finances. For help from MAS if you are struggling with debt please follow this link: MAS – Help if you are struggling with debt.
It is also recommended that you read this one page document produced by MAS entitled "Dealing with debt – 5 things you should know".
Arrange a call with an IVA Expert
Privacy Policy
Your information will be held in strictest confidence and used to contact you by our internal team only. We will never share your details with any third party without your permission.