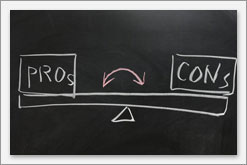 The main advantages and disadvantages of a Debt Management Plan (DMP) are given below. Their relevance to you will depend on your own situation.
Jump to article content:
Want to start a DMP? Give us a call (0800 077 6180) or complete the form below to speak to one of our experts
Debt Management Plan Advantages and Disadvantages
A Debt Management Plan (DMP) has advantages and disadvantages. Find out what the main advantages and disadvantages are. The relevance of each depends on your personal financial situation. To find out more please visit: http://beatmydebt.com/debt-management-plan/dmp-advantages-and-disadvantages
The main Advantages of a Debt Management Plan
1. Swift to Implement
You can get a Debt Managment Plan up and running very quickly. It is possible to reduce your debt payments straight away allowing you to get back in control of your finances immediately.
2. Affordable Repayments
Your monthly repayments are reduced to an affordable amount. Once the Plan is up and running you no longer have to keep borrowing to just to make your debt repayments each month.
3. Flexibility
A DMP is a very flexible debt management solution. The amount you pay into it can be changed at any time (although there may be implications if you reduce your payments). You can also stop paying into the agreement if you decide an alternative solution is better for you.
4. Home Equity does not have to be released
If you start a Debt Management Plan you will be under no legal obligation to release equity from your property to repay your debts.
5. No One will Find Out
Your Plan is not recorded in any formal insolvency register. It is a private agreement between you and your creditors. No-one else will be told that it exists.
The main Disadvantages of a Debt Management Plan
1. Debt is not Automatically Written Off
Unlike other debt solutions such as an IVA or Bankruptcy if you use a Debt Management Plan your creditors do not automatically agree to write off any of your debt. As such it is likely that the Plan will last a long time.
2. Negative effect on your credit rating
Once you start a DMP your credit rating will be negatively affected. This will mean that you will find it difficult to get further credit.
Starting a Debt Management Plan will affect your credit rating just as badly as starting an IVA or even going Bankrupt.
3. The Plan could last a Long Time
Starting a Debt Management Plan will significantly extend the length of time it takes you to repay your debts. The length of your Plan will depend on a number of factors including the amount you can afford to pay and whether interest is frozen.
4. No Legal Protection from your Creditors
The Plan is informal. This means that whether they agree to the reduced payments or not your creditors can still take further legal action against you at any time. This might include applying for a CCJ (County Court Judgment) against you or a Charge against your property.
5. Interest Charges may not be Frozen
Once your DMP is up and running your creditors are not legally obliged to freeze their interest charges. If they do not then the length of your Plan will be extended.
Arrange a call with a DMP Expert
Privacy Policy
Your information will be held in strictest confidence and used to contact you by our internal team only. We will never share your details with any third party without your permission.