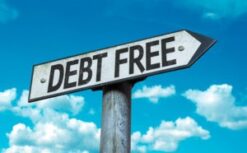 A Debt Relief Order gives you similar benefits to going bankrupt but costs much less. However to apply you need to meet strict acceptance criteria.
Jump to article contents:
Want more advice about a DRO? Give us a call (0800 077 6180) or complete the form below to speak to one of our experts
What is a Debt Relief Order?
A Debt Relief Order gives similar benefits to going bankrupt. It is designed to help you resolve debts that you will never be able to repay yourself.
Once the Order is issued you do not have to make any further debt payments. The solution lasts for 1 year after which you are discharged and your unsecured debts written off.
In the same way as alternative debt solutions such as Debt Management Plan or IVA starting a Debt Relief Order will negatively affect your credit rating 6 years.
Is a Debt Relief Order suitable for you?
Not everyone is eligible to start a Debt Relief Order. The solution is only available for people living in England, Wales and Northern Ireland. It is not available in Scotland.
You will only be allowed to apply if you meet some key criteria. Your total debts must be less than £30,000 (increased from £20,000 June 21). You car worth no more than £2000 (up from £1000 June 21). You must live in rented accommodation and your surplus income must be no more than £75/mth (up from £50 June 21).
Before you apply you must work out your surplus income by deducting your total monthly living expenses from your total monthly income. In order to do this you need to correctly complete your living expenses budget.
If you believe your income will increase over the next 12 months a DRO may not be for you. If your surplus income rises above £75/mth the Order may be overturned and your debts will remain.
How to get a Debt Relief Order
A Debt Relief Order is a formal legally binding solution. This means you cannot simply start one yourself. You need the help of an authorised intermediary.
It is the job of the intermediary to check you are eligible and help you complete the necessary application forms. They will then forward these to the Official Receiver for authorisation.
The Official Receiver will write to your creditors once your DRO is authorised . If any contact you directly you simply tell them the Order is in place and they have to stop all collections action against you.
The best place to to find an authorised intermediary is at your local CAB. Simply make an appoint to meet with their debt counsellor.
How much does Debt Relief Order Cost?
Because it is designed to help people who have little or no surplus income the cost of a Debt Relief Order is much less than Bankruptcy. You pay a one off charge of just £90.
Once the Order is in place you will not have to make any further payment towards your debts. You are discharged after 12 months and your debts written off.
Government Advice about Dealing with Debt
As well as the information found on this website the Government's Insolvency Service has produced a useful guide to personal debt solutions which you might also find useful: "Options for paying off your debts".
Money Helper (provided by the Money & Pensions Service) is an independent service set up by the Government to provide people with free advice about all aspects of personal finances. For further information, please follow this link: Help if you are struggling with debt.
It is also recommended that you read this one page document produced by the Money & Pensions Service entitled "Dealing with debt – 5 things you should know".
Arrange a call with a Debt Management Expert
Privacy Policy
Your information will be held in strictest confidence and used to contact you by our internal team only. We will never share your details with any third party without your permission.