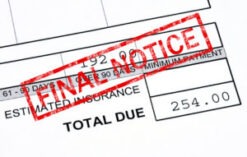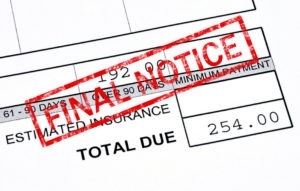 Bailiffs are normally employed to enforce non commercial debts such as council tax arrears and parking fines. They are rarely used by commercial lenders such as banks.
Have you been contacted by a bailiff? Give us a call (0800 077 6180) or complete the form below to speak to one of our experts
The Debt Collection Process
Commercial lenders such as banks, credit card and payday loan companies do not normally use bailiffs. Their collection process usually involves employing a debt collection agency. If this does not work they may then apply for a CCJ or take other legal action.
Bailiffs are used to enforce different types of debts. These include council tax and rent arrears (particularly for commercial premises). Also CSA arrears, debt owed to HMRC and unpaid parking tickets (Penalty Charge Notices).
Where these types of debts are owed the creditor will first go through a lengthy debt collection process. They will only use a bailiff as a last resort. As such this action can normally be prevented by agreeing a sensible debt solution.
Bailiffs and debt collectors are different. Debt collectors do not have the power to come into your home and take belongings.
How to Negotiate with a Bailiff
There are a number of different types of bailiffs. The most common are called Enforcement Agents (Previously Certified Bailiffs). These are normally employed by private companies and have the power to carry out warrants from the Court to levy distress (also known as levy distraint).
Levying Distress is the legal term for taking goods that are owned by you and selling them to repay the debt you owe. However there is nothing to stop you negotiating a payment plan with the bailiff or the company they work for.
If they refuse then you should simply ask them to leave and contact whomever you owe the money to. If necessary you can make a complaint about the actions of the bailiff.
It is possible to agree a repayment plan with a Bailiff. However it is always best to agree such a plan with the creditor early on to prevent bailiffs being instructed in the first place.
Do you have to let a Bailiff into your Home?
Generally speaking you do not have to let a bailiff into your home. They can only gain entry using peaceable means such as if you invite them in or if they are able to walk in through an unlocked door or get through an unlocked window.
If a bailiff turns up at your door the most important thing to remember is keep them at the door. Do not let them in. If you do then it will be very difficult to get them to leave without signing a Controlled Goods Agreement (previously known as a Walking Possessions Order) which could then lead to your possessions being taken.
If you do not allow them in they cannot force entry. If they cannot get in on the first visit they are likely to try again at different times but after three attempts they will usually give up.
Sometimes a bailiff will have authority to physically break into your home. However this is rare unless you have previously signed a Controlled Goods Agreement.
What can a Bailiff take?
After gaining peaceable entry to your property a bailiff can only take your non essential items. They are not allowed to take things like your clothes, bedding, reasonable furniture and essential household equipment such as your fridge, cooker and freezer.
In addition they are not allowed to take the tools of your trade. So if you are self employed they cannot seize your work tools without which you would not be able to earn your income.
Normally a bailiff will not take goods straight away but ask you to sign a Controlled Goods Agreement. This documents states that if you do not repay what you owe in the timescales agreed the goods listed can then be taken.
If you have a car registered in your name a bailiff could levy distress against it. As such you should park your car in a garage or out of site of your property.
Arrange a call with a Debt Management Expert
Privacy Policy
Your information will be held in strictest confidence and used to contact you by our internal team only. We will never share your details with any third party without your permission.