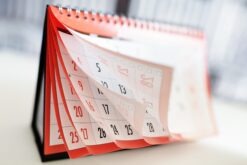 Bankruptcy in the UK normally lasts for 1 year. However some of its effects will last longer.
Included in this article:
Rather speak to a person? Call 0800 077 6180 or fill in the form below and we'll call you
How long does Bankruptcy last in the UK?
Normally Bankruptcy in the UK lasts for 12 months. Is it possible to be discharged early? Could the length of your Bankruptcy be extended? To find out more please visit: http://beatmydebt.com/bankruptcy-frequently-asked-questions/how-long-does-bankruptcy-last
The standard length of Bankruptcy
The length of Bankruptcy in the UK is 12 months. This was reduced from 3 years in April 2004 following the implementation of the Enterprise Act.
As such if you go through the process today you will normally remain Bankrupt for just 1 year. On the 1st anniversary of the date your bankruptcy was registered you will be automatically discharged.
Becoming discharged means you are then free from the restrictions of bankruptcy. For example any financial windfalls you receive are yours to keep (other than PPI compensation). In addition you are free to be a director of a limited company.
Could the length of your Bankruptcy be extended?
The Official Receiver (OR) can extend the length of your Bankruptcy. However there is normally only a risk of this if you have carried out a transaction at undervalue within the last 5 years, made a preferential in the last 2 years or a significant amount of your debt is due to gambling.
The extension would be in the form of a Bankruptcy Restrictions Undertaking (BRU). If you get a BRU some of the restrictions of your bankruptcy remain for an extra 3-4 years. Despite this however you would still be discharged after 12 months.
If you do not cooperate with the OR they could apply to the court to suspend the actual discharge of your bankruptcy. You would then remain bankrupt until they are satisfied all their questions have been answered.
Since the introduction of the Enterprise and Regulatory Reform Act in October 2013 the Official Receiver is no longer allowed to grant early discharge from Bankruptcy. As a result it now lasts no less than 12 months in all cases.
How long will Payments to your creditors last after Bankruptcy?
Once you are bankrupt the Official Receiver will review your income and living expenses. If you have any disposable income you will normally be asked to pay this towards your debts. It is known as an Income Payment Agreement (IPA).
An IPA will last for three years. In other words the payments continue after you are discharged from Bankruptcy itself. This is possible because Bankruptcy and the IPA are governed by two separate agreements.
If you have an IPA and your income improves you must tell the OR. As a result your payments may increase. You must inform the OR of changes during your IPA even if you have already been discharged.
Over what period will your Credit Rating be affected?
The fact you are Bankrupt is recorded on your credit file. This record will remain for 6 years. As such even after you have been discharged your Credit Rating will continue to be affected.
During the 6 year period anyone who carries out a credit check on you will find out about your situation. This will have a negative effect on your ability to get new credit facilities.
It is possible to get a mortgage after Bankruptcy. Generally speaking the best deals are available after 6 years from the date you were made bankrupt. However some lenders may be prepared to lend to you before that.
Even though the record still exists on your file there are things you can do to start improving your credit rating as soon as you are discharged. One of these is to start using a credit repair credit card.
Arrange a call with a Bankruptcy Expert
Privacy Policy
Your information will be held in strictest confidence and used to contact you by our internal team only. We will never share your details with any third party without your permission.