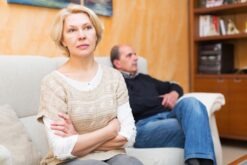 If you are living with your parents and struggling with debt bankruptcy could be a sensible solution. Normally there will be no impact on them at all.
Jump to article content:
Living with parents and want advice on going Bankrupt? Give us a call (0800 077 6180) or complete the form below to speak to one of our experts
Do your Parents have to pay your Debt if you go Bankrupt?
When you go bankrupt no-one else becomes liable for your debts. As such if you are living with your parents they will not have to pay the money you owe.
If they own their property it is not at risk. You will have to state the address as it is where you are currently living. However their home is not included in your application as it is not your asset.
In the same way non of their belongings are at risk. In bankruptcy only things that you personally own are considered by the Official Receiver. Even then you are allowed to keep all of your reasonable household items.
Your parents would only become liable for your debts after you go bankrupt if they agreed to act as a guarantor for any of your creditors.
Is your Parents' Credit Rating affected if you go Bankrupt?
After you go bankrupt a record is added to your credit file. As a result your credit rating is negatively affected. It will then be more difficult for you to get new credit for the next 6 years.
However your parents' credit rating is not affected. Credit files are individual. If one person living in a property goes bankrupt the record is placed on their file alone. Nothing will be shown on the files of other people living in the same home.
You may be concerned that your parents property will be black listed. This does not happen. There is no black list of properties where bankrupt people live. It is only your individual credit file which is affected.
If you go bankrupt neither your parents property or personal credit ratings will be negatively affected or blacklisted.
What Living Expenses are you allowed if Living with Parents
One section of the bankruptcy application form which is critical to get right is your income and expenses budget. The Official Receiver will use this to decide whether you need to make ongoing payments to your debt.
If you are living with your parents you should complete your living expenses budget as if you were living in lodgings. You are allowed to include a reasonable amount for paying them rent based on the going market rate for lodgings in your area.
You are also allowed an appropriate housekeeping and clothing allowance (i.e. for a single person or a couple depending on your circumstances). Your parents are not expected to support you by feeding and clothing you for free.
You are allowed to pay rent to your parents if you go bankrupt in just the same way as if you were living in lodgings.
Can you Move out of Home after you are bankrupt?
You are free to move out of your parents' home after you are bankrupt. However it will need careful consideration. If you want to move to your own place you will first need to make sure you can afford the new expenses you are likely to incur.
It is also important to consider your poor credit rating. You are likely to fail a credit check undertaken by a prospective landlord or letting agent. As such you may need to offer someone who can act as a guarantor for the rent.
There is nothing to stop you moving out of your parents property and in with your partner. However you must remember to inform the Official Receiver of your change of address. They are then likely to ask you to complete a new income and expenses budget so they can review your disposable income.
Your disposable income might change as a result of moving out of your parents home. If so the amount you are paying towards your debt might also be affected.
Arrange a call with a Bankruptcy Expert
Privacy Policy
Your information will be held in strictest confidence and used to contact you by our internal team only. We will never share your details with any third party without your permission.