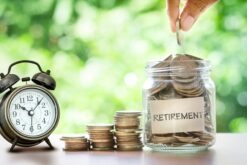 Most workplace and private pension funds are not at risk if you go bankrupt. However any monthly income you receive could be used as part of a payment towards your debts.
Included in this article:
Rather speak to a person? Call 0800 077 6180 or fill in the form below and we'll call you
What happens to pension payments you currently get if you go bankrupt?
If you go bankrupt and are already receiving pension payments (whether state, employer or private), you must declare these. The money can be used as part of the calculation to determine if you can afford to make ongoing payments towards your debts.
All your sources of income are added together to form a monthly total. This includes pension payments and money you receive from any work you are continuing to do. If your pension is received quarterly or annually this is divided down to get a monthly figure.
Your monthly living expenses are then deducted from your income. If there is any surplus the Official Receiver can ask for this to be paid to them for 3 years in the form of an IPA (Income Payment Agreement).
Pension payments you receive can't be taken from you in full if you go bankrupt. However they must be included in your income calculation.
Will your overall pension fund be at risk after you go bankrupt?
It has been long established in law that money you have already paid into most pension funds is exempt from bankruptcy. This is specifically covered by the Welfare Reform and Pensions Act 1999 – Introduced May 2000.
Because of this, once you are bankrupt (as long as the Order date is after May 2000) the Official Receiver can't claim any money you have already paid into a pension. This cash is safe and will still be available for you when you retire. The only exception is if you paid unusually large amounts into the fund just before going bankrupt.
You are also allowed to continue making reasonable payments into your pension. However over payments into an employer's scheme or excessive payments into a personal fund will not be allowed.
If you went bankrupt before May 2000 any fund you had at that time can be claimed by the Official Receiver. This is the case even if the money only becomes available years later. There is no time limit.
Can you be forced to take money from your fund?
When you reach the age of 55 you are currently allowed to withdraw funds from a personal pension fund. This has important implications if you are 55 or over during the year you are bankrupt.
If you chose to draw cash from your pension while bankrupt, the funds you receive must be treated as a windfall. As such these can be taken by the Official Receiver and used to pay your debts. To avoid this you must wait until after you are discharged before drawing any funds.
Having said that the OR can't force you to withdraw funds from your pension or start taking an income from it. This was confirmed by the Court of Appeal in a case known as Horton v Henry (Oct 16).
Want further advice or assistance with bankruptcy? Call us (0800 077 6180) or complete the form below.
Arrange a call with a Bankruptcy Expert
Privacy Policy
Your information will be held in strictest confidence and used to contact you by our internal team only. We will never share your details with any third party without your permission.