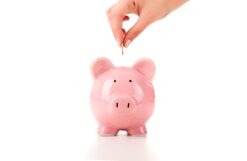 You are allowed to save during an IVA. Saving should actually be encouraged to help in times of financial emergency.
Included in this article:
Want help to start an IVA? Give us a call (0800 077 6180) or complete the form below to speak to one of our experts
Is Saving Money allowed during an IVA?
There is nothing to stop you saving money during an IVA. In fact in many cases it is necessary to put aside some of your agreed living expenses each month.
It is likely there are allowances in your budget which you do not spend immediately. Perhaps car maintenance or a clothing fund. These should saved so the money is available to cover the costs when they come up.
In addition if you can reduce your living expenditure in certain areas you are allowed to save this money as well. In this way you can build up a fund to cover unexpected expenditures.
As long as any savings you make come out of your agreed living expenses budget you are allowed to keep them. You do not have to declare them and they do not have to be paid into your IVA.
How to Save Money while in an IVA
You might think it will be relatively easy to save during an IVA. However even if you have specific amounts in your living expenses budget which are not used each month putting them aside can be harder than it seems.
The first thing you will need to do is work out a savings plan. First you must decide what you can afford to save. You might feel it is possible to save a small amount from your housekeeping or sports and hobbies allowance.
You should not to be too ambitious. Plan to save small amounts first. Once you have been in your IVA for a few months you can review and increase the amount you put aside if possible.
Once you have know what you will save you must decide when to do it. It is best to put money aside as soon as you get paid and open a specific savings account at your bank.
Is it better to increase your IVA payment instead of Saving?
If you can save money from your living expenditure budget you might think it would be best to use this to increase your IVA payments. Surely this would mean the Arrangement would be paid off faster?
In fact this is not the case. If you are able to increase your monthly payment during an IVA all that happens is you pay back more of the money you owe. The number of payments you make is not reduced.
It is possible to settle an IVA early. However to do this you will have to provide a cash lump sum which is offered to your creditors instead of ongoing monthly payments.
What if you have no savings and face a financial emergency?
You never know when you might face a financial emergency during an IVA. Even if you have started to save you might not have have put enough aside to cover an unexpected expenditure which comes up.
If this happens your first instinct might be to try and borrow more to tide you over. It might be possible for you to approach a pay day lender who might help you despite your poor credit rating.
However you must avoid this strategy. If you borrow more it will be difficult for you to maintain both your IVA and repay the new debt. It may be possible to add a new debt into the Arrangement but not easy.
If you have a financial emergency during your IVA but have no savings set aside to cover it speak to your Insolvency Practitioner. They should be able to arrange a Payment Break which will help.
Arrange a call with an IVA Expert
Privacy Policy
Your information will be held in strictest confidence and used to contact you by our internal team only. We will never share your details with any third party without your permission.