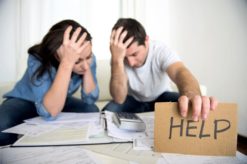 In normal circumstances you are not responsible for someone else's debt if they do not pay. This is the case even if you are married.
Jump to article contents:
Need help finding a solution for your debt? Give us a call (0800 077 6180) or complete the form below to speak to one of our experts
Are you Responsible for a Spouse or Partner's Debt?
In general you cannot be forced to pay someone else's debt. Legally debts are only owed by the individual who borrowed the money.
As such if your spouse, partner or anyone else you know does not pay a debt they owe you are not liable for it.
This is even the case if you spent the money. For example if you were a second card holder on a credit card. The card company cannot force you to pay if the card account holder does not.
A third party is not normally legally obliged to pay a debt in someone else's name.
What if your Partner starts a Debt Management Plan?
If your partner is struggling with debt they might consider using a solution such as a Debt Management Plan or IVA. This would allow them to reduce the payments they make each month.
Even where they do this you have no liability for their debt. Once the Plan is in place the creditors have to accept the reduced payments as agreed. They cannot ask you or anyone else to make up the difference.
Some debt solutions will result in part or all of a debt being written off. In particular an IVA or Bankruptcy. In these circumstances the creditors must accept the situation. They cannot turn to you for the balance.
What if you are Joint Homeowners?
One of the options open to a creditor to try and enforce the payment of a debt is to apply for a charge against a property. If granted the debt in effect becomes secured.
Usually if such a charge is issued it can only attach itself to the share of the property owned by the person who owes the debt. If the house is subsequently sold it can only be paid from their share of the equity released.
The only time your property could be at risk is if the other joint owner goes bankrupt. In these circumstances the official receiver could force sell the property to release their share of the equity if this cannot be raised in any other way.
Both parties are responsible for a joint mortgage. If one cannot or will not pay the other is liable to maintain the payments.
Joint Debt and Personal Guarantees
More than one person is responsible for a joint debt such as a joint overdraft. In these circumstances both named account holders have equal responsibility for 100% of the balance.
As such if one account holder cannot or will not pay the other will be chased for 100% of the money owed. This is the case even if only one of the account holders spent the money.
If you act as a guarantor for somebody's loan you are then automatically responsible for paying it if they do not.
Where a friend or family member asks you to be a guarantor for their loan you will have to pay the full balance plus interest if they do not.
Arrange a call with a DMP Expert
Privacy Policy
Your information will be held in strictest confidence and used to contact you by our internal team only. We will never share your details with any third party without your permission.