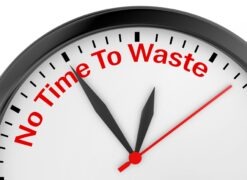 An IVA gives you legal protection from bailiffs and debt collectors. But how long will it take to set up?
Rather speak to a person? Call 0800 077 6180 or fill in the form below and we'll call you
How long does it take to set up an IVA?
It will take 4-6 weeks to set up an Individual Voluntary Arrangement (IVA). Why does it take this long? What personal information will you need to provide? Is it possible to start an IVA in less time? To find out more please visit: http://beatmydebt.com/individual-voluntary-arrangement/how-to-start-individual-voluntary-arrangement
How long will it take to set up an IVA?
The process of setting up an IVA takes around 4 weeks and involves a number of steps. First your financial circumstances must be reviewed and an estimate made of how much you can afford to pay towards your debts each month.
You will have to provide various paperwork such as bank statements and wage slips to confirm the information you have submitted. A formal IVA proposal is then produced and sent to your creditors for their review.
Given your offer of repayment is reasonable the proposal will be accepted at a creditors meeting. The IVA is then legally binding and they are no longer allowed to chase you for money. All actions from collections agents and bailiffs must stop.
Struggling to get your head round all of this? We can help. Call us (0800 077 6180) or complete the form below. The advice is free and confidential.
What do you tell your creditors in the mean time
You will probably be concerned about how to deal with your creditors while you are waiting for your IVA to start. What if they are already chasing you or begin doing so during the 4 week process?
Be honest with them. Explain you have taken debt advice and decided to apply for an IVA. Ask them to put your account on hold to give you time to get the agreement in place.
Most creditors will be willing to help you like this because they then know you are taking positive steps to deal with your debt. They will usually give you a month or two of breathing space.
How to speed up the IVA application process
One of the main reasons it takes 4 weeks to set up an IVA is you need to provide evidence your financial circumstances. You will be asked for things like proof of your identity, recent bank statements and wage slips.
Everything you are asked for should be provided as quickly as possible. If you delay for a few days or more it will add the same amount of time to your application process.
The fastest way to get paperwork to your IVA company is to e-mail electronic or scanned versions. If you cannot do this then post copies and make sure you send them first class.
One or more of your creditors may already be taking legal action against you (for example petitioning for your bankruptcy). Such actions can be suspended to give time for an IVA to be proposed.
Need help to start an IVA. Give us a call (0800 077 6180) or complete the form below. 
Arrange a call with an IVA Expert
Privacy Policy
Your information will be held in strictest confidence and used to contact you by our internal team only. We will never share your details with any third party without your permission.