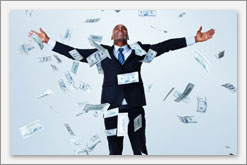 If you have finished your IVA claiming for PPI is now possible. This is the case even if your IVA was completed a long time ago. You could be due PPI compensation of thousands of pounds. We can help you get the money you are owed.
– Why do you need our help with claiming for PPI after an IVA?
– Find out if you have valid claims free of charge
– £500,000 won for our clients in 2015 and counting
– We can help whether your IVA was with Grant Thornton, PayPlan, Kingsgate, Debt Free Direct or another IP
Want help with claiming for PPI after your IVA? Give us a call on 0800 077 6180 or complete the form below to speak to one of our experts
Claiming for PPI after your IVA- Why do you need our help?
Once your IVA is completed there is no reason why you should not make mis sold PPI claims yourself. However claiming for PPI after an IVA is not straight forward. It is common that the banks will refuse to pay you the compensation you are due. They use arguments relating to "set off" or "unrealised assets".
If a bank refuses to pay your PPI compensation you could raise a complaint with the Financial Ombudsman Service. However they will not necessarily support your complaint.
By using our specialist claims service there is a strong chance that the bank's arguments will be overcome. We only work with people who have completed an IVA or Trust Deed. Our expertise means that you could receive literally £1000s in compensation payments. However there is no guarantee that compensation will be won.
What does our Claiming for PPI service include?
1. Establishing your claims
You do not need to know if you had PPI or not. This will be establish that for you. Each of your creditors will be contacted on your behalf and asked to provide information about whether or not you took out PPI and how much you paid for this.
2. Making your claims
All your PPI claims are made on your behalf and any negotiation which is required with your creditors to ensure that they hand over the compensation you are due is carried out. The claims team has an 80% success rate in getting the compensation that our clients are due.
3. Assess whether the compensation offered is sufficient
More often than not the amount of compensation initially offered by different banks is too low. The claim team will make sure that the amount paid is correct and that you are not short changed by the bank.
What does the PPI Service cost?
Neither Beat My Debt or its parent company Wilmott Turner Financial Services will charge you for any advice you receive from us. If you contract with our preferred claims partner to provide claims management services on your behalf they will not charge any fee for the work they do unless they are able to win compensation for you.
Where they are able to win compensation a success fee of 30% (plus VAT) of the compensation sum will become payable within 7 days of your receiving the compensation. By way of example if compensation of £3000 is recovered for you the fee you will be charged will be:
30% of £3000 = £900 + VAT @ 20% (£180) – Total fee payable £1080
No fee will be charged to you in respect of an unsuccessful claim where you do not receive compensation.
Note: When you pay a fee to our claims partner on receipt of compensation 30% of this fee will be paid to Wilmott Turner. This cost is paid by our claims partner and is not an additional cost to you.
Tax payable on compensation
Part of the compensation you receive normally includes statutory interest at 8%. This interest is taxable. The majority of lenders pay 20% tax direct to HMRC on this interest before paying out the refund. If you are a higher rate tax payer you may owe additional tax and may therefore have to notify HMRC. Tax is not payable on the full refund, just the statutory interest element.
Subject Access Request (SAR)
If you are unable to provide an account number it may still be possible to make a claim against any bank who mis sold you PPI. However a Subject Access Request (SAR) will first have to be issued to the bank to establish whether or not you had PPI on any of your accounts with them. There may be a nominal charge payable to the bank when the SAR is issued (normally £10). You will be required to pay this charge.
More Information about our Claims Service
Please click on the link below for more detailed information about our PPI Claims Service including:
– How the service is delivered
– How long the process will take
– The information you will need to provide
– Your right to Cancel
– Your right to complain
More information about our claims service
Arrange a call with a PPI Expert
Privacy Policy
Your information will be held in strictest confidence and used to contact you by our internal team only. We will never share your details with any third party without your permission.