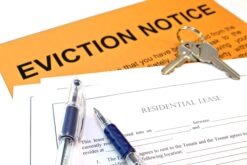 If your landlord does not continue to pay the mortgage on the property that you are renting  it is likely that it will be repossessed by the mortgage lender.
Once the mortgage company has taken possession of the property they will normally want to sell it to try and recover the money that they lent to the landlord. They will therefore probably want you to leave the property as soon as possible so that it can be sold.
If you find yourself in this situation then unfortunately as a tenant you have very few rights and you will ultimately have to leave the property. However you will not necessarily have to leave immediately.
Your rights if your rented property is repossessed
If you are a tenant of a privately owned property then the type of rental agreement you will have will normally be an Assured Shorthold Tenancy Agreement. The fixed term element of your tenancy will normally be six months to one-year after which you and the landlord have the option to extend, renew or cancel the agreement.
Importantly if you are still within the fixed term element of your contract at the time when the property is repossessed you cannot be evicted from the property immediately.
The mortgage lender who now owns the property must allow you to stay until the end of the fixed term. In affect the mortgage lender becomes your new landlord and you will continue to pay your rent to them (or their agent).
However when the fixed term element of your contract comes to an end or if it has already ended at the time the property is repossessed the mortgage lender then has the right to issue you with a notice to vacate the property within two months so that it can be sold.
BMD Tip: Ultimately there is little or nothing you will be able to do to prevent having to leave the property. As such as soon as you hear that it is to be repossessed by the mortgage lender the best course of action will be to start looking for alternative accommodation immediately.
What if my landlords mortgage was not approved for buy-to-let?
If your landlord's mortgage on the property which has been repossessed was not buy-to-let this means that they did not have permission to rent the property out by the lender. Where this is the case then as a tenant of the property you have fewer rights.
Once the lender has repossessed the property they can immediately issue you with a notice to vacate the property whether you are still within your fixed term or not. You then have two months to leave.
Arrange a call with a Rent Arrears Expert
Privacy Policy
Your information will be held in strictest confidence and used to contact you by our internal team only. We will never share your details with any third party without your permission.