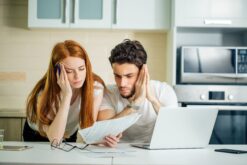 A guarantor loan is not a secured debt. As such you can include this type of debt in a debt management plan. However there will be significant implications for the person who guaranteed the loan on your behalf.
Included in this article:
Struggling with a guarantor loan? Call us (0800 077 6180) or complete the form below. It's free and confidential
Can you include a guarantor loan in a debt management plan?
There is nothing to stop you from including a guarantor loan in your debt management plan (DMP). The debt is unsecured and so can be treated in the same way as any of your other bank loans or credit cards.
However, if you add the loan, it means you stop making the agreed monthly repayments.
The loan company will get a share of your DMP payment in the same way as all of the other debts you include. But, reducing their payment means that you will break the loan agreement. This means they can then demand that your guarantor makes the payment instead.
Even if they accept your debt management plan payment arrangement, the loan company will almost certainly still demand that your guarantor pays the debt.
Of course, this may not be a problem if your guarantor is happy to pay or you don't care about them. However, if they are not in a position to make the payments on your behalf, it will put them in real financial difficulty.
Are you allowed to leave the loan out of your DMP?
So how do you get around the problem of your guarantor being left to pay your loan if you include it in a debt management plan?
Really, the only option is to leave the loan out and continue paying it. You are allowed to do this and still manage all your other debts in your DMP. Once it is repaid, you can then increase your DMP payment meaning that your other creditors are then paid back faster.
But what if you can't afford to pay both the guarantor loan payment and a reasonable amount to the rest of your creditors?
The minimum payment for a DMP is normally £100/mth. If both this and the loan payment are not affordable, the solution won't work.
In these circumstances, you will have to continue paying your guarantor loan, but buy time with your other creditors. You can do this by offering them token monthly payments of perhaps just £1 a month. Once the loan is paid, you can then start a debt management plan with your other creditors or perhaps use a different debt solution such as an IVA or bankruptcy.
It should be possible to agree token payments with your non guarantor loan creditors if you can show them you have little or no surplus income.
Could your guarantor also start a debt management plan?
Unfortunately there is no debt solution that you can use which allows you to reduce the payments you make to your guarantor loan but also protects the person who guaranteed it.
You can include a guarantor loan in an IVA. But just like with a DMP, the guarantor will become liable for the payments. This also happens even if you go bankrupt.
Really the only option if they can't afford to pay the loan on your behalf, is for them to use a debt management solution as well.
It is certainly possible for them to negotiate reduced payments with the loan company without affecting anyone else. It is very unlikely that there will be a second guarantor behind them.
They could start a debt management plan of their own or (if they are your partner) you could do a joint Plan. Alternatively they can consider the options of an IVA or going bankrupt.
Need advice about how to manage a guarantor loan? Give us a call (0800 077 6180) or complete the form below. It's free and confidential.
Arrange a call with a Debt Management Expert
Privacy Policy
Your information will be held in strictest confidence and used to contact you by our internal team only. We will never share your details with any third party without your permission.