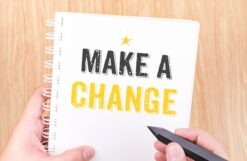 An IVA can offer significant benefits. However whether you should stop your DMP and start one depends on your financial circumstances.
Jump to article content:
Want help to start an IVA? Give us a call (0800 077 6180) or complete the form below to speak to one of our experts
Will your Debts be Paid Off Faster?
One of the significant downsides to a DMP (Debt Management Plan) is you have to pay your debts in full. As a result this solution will typically last between 5-10 years.
On the other hand an IVA normally lasts just 5-6 years. After you have made your final payment any outstanding debt is written off.
For this reason if your stop your DMP and start an IVA you are likely to become debt free much faster.
If you can afford to repay all your debt in less than 5 years using a DMP changing to an IVA is unlikely to give any benefit.
Will your Monthly Payment Change?
The payment you make into a DMP or IVA is based on the same figure – your disposable income. This is that amount left after your monthly living expenses are deducted from your income.
For this reason if you stop your DMP and start an IVA the monthly payment you will have to make should be the same. However there is an exception to this.
Normally you need to be able to pay at least £100/mth to start an IVA. If you cannot afford this and are paying less into your DMP you may not be able to change.
If you cannot afford the minimum payment required you might still be able to do an IVA based on a lump sum payment.
What happens if you are a Home Owner?
A DMP does not give your property legal protection from your creditors. However your home is generally not at risk as long as you maintain the payments. In addition there is no obligation to release equity to help pay your debt.
An IVA does provide legal protection. However you have to agree to a so called equity release clause.
In the 5th year of the Arrangement you will be obliged to release equity from your property if this is possible. As a result the overall amount you repay towards your debts is increased.
If there is no equity in your property or there is but it cannot be released your IVA payments will be extended by 12 months instead.
Is your Credit Rating likely to get Worse?
You might think if you stop your DMP and start an IVA your credit rating will get worse. In fact this is not the case.
Generally speaking if you stick with a DMP your credit rating will remain poor until you have paid your debt and the Plan is finished. This might not be for 5-10 years.
If you start an IVA your credit rating will be affected for a maximum of 6 years. After that it will significantly improve. As such for many people switching to an IVA could actually speed up the repair of their credit file.
If you stop your DMP and start an IVA you will still find it difficult to get credit for the next 6 years.
Arrange a call with an IVA Expert
Privacy Policy
Your information will be held in strictest confidence and used to contact you by our internal team only. We will never share your details with any third party without your permission.