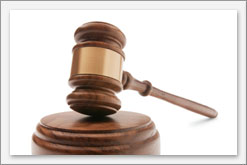 If you are a home owner any of your unsecured creditors could apply to the Court for a Charging Order to secure their debt against your property. However certain criteria have to be met before they can do this.
Firstly the creditor must have applied for and been awarded a County Court Judgement (CCJ) against you.
BMD Tip: Once a CCJ has been issued the creditor can then automatically apply for a Charging Order. This is the case even if you are making agreed payments towards the CCJ.
A Charging Order can be issued even if there is no equity in your property. The creditor who applies for the charge may well be happy to wait for their money until the value of the property increases and you eventually decide to sell.
1. The Court issues an Interim Charging Order
An Interim Charging Order will normally be issued by the court automatically when the creditor makes their application for the Charging Order against your property. The Interim Charging Order is basically a temporary Charging Order which stops you from selling your property before the outcome of the Charging Order Hearing is known.
You should receive notice from the Court that an Interim Charging Order has been issued and at the same time receive confirmation of the date and time of the Court hearing.
BMD Tip: The Land Registry will be notified of the Interim Charging Order and they may also inform you that it has been registered with them.
2. The Court issues a Final Charging Order
The decision about whether or not a Final Charging Order should be issued will be made by a District Judge at a Court Hearing. It is very important that you attend the Hearing as this is your opportunity to tell the Court why you feel that the Final Charging Order should not be issued.
If you do not attend the Hearing it is almost certain that the Judge will grant the Final Charging Order.
If you do attend by despite your arguments the court feels that the creditor has a case then the Final Charging Order will be granted and the debt secured against your property.
Do you want help to stop a Charging Order? Give us a call on 0800 077 6180 or complete the form below to speak to one of our experts
How to stop a Charging Order being issued
If you are a home owner and you think that there is a risk that one of your creditors is going to apply for a Charging Order against your home the best way to ensure that this does not happen is to start an IVA (Individual Voluntary Arrangement).
Once an IVA is in place your creditors are not allowed to take any further court action against you. Any CCJs already in place are overturned and any application for a charging order is stopped.
However if an Interim Charging Order has already been issued against you then normally the only way you can prevent a Final Charging Order being issued is to attend the Court Hearing and argue your case in front of the District Judge.
Arrange a call with an IVA Expert
Privacy Policy
Your information will be held in strictest confidence and used to contact you by our internal team only. We will never share your details with any third party without your permission.