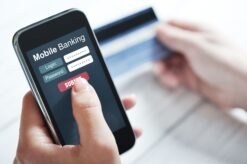 You are allowed to have a bank account if you start a Debt Management Plan. However you may have to open a new one with a different bank.
In this article:
Rather speak to a person? Call 0800 077 6180 or fill in the form below and we'll call you
Do I need to open a new bank account before starting a DMP?
If your are starting a Debt Management Plan (DMP) you may need to open a new bank account. Why is it often necessary to open a new account? What is the banking right of set off and how can you prevent this? To find out more please visit: http://beatmydebt.com/self-help-guides-resources/bank-account-debt/how-to-get-a-bank-account-if-starting-a-dmp
Should you open a new bank account if starting a debt management plan?
You can definitely have a bank account if you start a debt management plan (DMP). You will need an account for your income to be paid into each month. In addition you will normally need to set up a regular payment into the Plan.
If you have no outstanding debts with your current bank you should be able to continue using the account you already have with them. However if you do owe money to them and intend to include these debts in your DMP, you will need to open a new bank account before you start.
The reason for this is the bank's right of set off. This means if you have money in your account but include other debt owed to the same bank in your DMP, they can still take their payment without agreement from you. The only way you can guarantee this will not happen is to have your money in a different bank.
A bank's right to set off one account with money from another only applies between accounts held at same banking group. Opening a new account with a different bank means your income will be safe.
What type of Account is the best to open?
You may be surprised to learn that opening a new bank account is actually pretty easy. First you need to decide whether to apply for a current or a basic account. If your credit rating is already poor, you will need to go for a basic account.
Most banks offer basic accounts for people with poor credit ratings. They are free and come with all the banking facilities you need (debit card, internet banking, ability to set up standing orders and direct debits).
You can choose any bank you like (as long as you don't owe them money). Some of the banks known to Beat My Debt which offer a good basic accounts include: TSB, Co-Op; Halifax; Nationwide; Barclays; HSBC; Santander and Lloyds. You could also chose an online account such as Starling or Monzo.
You can have more than one bank account while you are in your DMP. This is recommended if you are self employed or want a separate account for savings.
Is it worth paying for a Managed Bank Account?
Some organisations offer so called managed bank accounts. These offer facilities to enable you to set up separate sub accounts so your funds can be separated and reserved for specific expenditure types. So for example you can set a sub account to pay your rent or mortgage or for household bills or one for your DMP.
Some people really appreciate this as it can help to manage your money. Using these facilities should ensure you always have enough cash to pay your priority expenditures.
However the downside of most managed accounts is that you have to pay a monthly fee to keep them open. This is normally around £15-£20 a month. If you are struggling financially £20 a month is a lot. Given you can get any number of basic accounts for free, they are probably not worth the money unless you really struggle to prioritise your funds each month.
Thinking about starting a debt management plan and concerned about your banking facilities? Give us a call or complete the form below.
Arrange a call with a DMP Expert
Privacy Policy
Your information will be held in strictest confidence and used to contact you by our internal team only. We will never share your details with any third party without your permission.