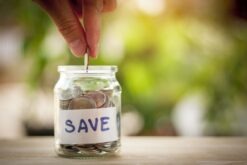 Even when you are in a debt management plan, you are allowed to save. But how is it possible and how much can you put by?
Included in this article:
Rather speak to a person? Call 0800 077 6180 or fill in the form below and we'll call you
How can you save while in a Debt Management Plan?
If you are in a debt management plan (DMP) there is no doubt that money will be tight. However it is still important to try and save each month if you can. Doing so will mean you build up cash to fall back on if you have unexpected emergency expenses.
The best way to save is plan to do it. Work out what you can afford to save each month. You may have been allowed to include a small amount for savings in your living expenses budget. There may also be other areas of your budget you can cut back on.
Once you know the amount, make sure you put it aside at the beginning of the month (or as soon as you receive your income). If you don't you can guarantee that you will use it for other things during the month.
Keep your savings in a separate bank account if you can. If it is out of sight, you are less likely to be tempted to spend it.
How much are you allowed to put aside?
There is no limit to the amount you can save while you are in a debt management plan. It is an informal agreement with your creditors so any money you are able to put by is yours to keep. You can't be forced to pay it into the plan.
In addition to money you can keep back from your agreed living expenses, you can also save any extra money you earn. If you do overtime or get a bonus this can also be put aside.
You may feel you will struggle to save anything at all from your living expenses budget. Remember, there are probably amounts which you need to save because the expenditure only happens now and then. For example money ear marked for car maintenance.
Some elements of your living expenses budget will have to be saved each month because the actual expenditure only happens periodically or annually.
Should you increase your DMP payments rather than save?
A debt management plan is an informal agreement. As such if you have extra money in any particular month you are allowed to save or spend it. You don't have to increase your plan payments.
That said there is the argument that rather than saving each month, it is better to increase your payments. As a result your debts will be paid more quickly and your plan will finish sooner. However this is not necessarily the most sensible thing to do.
As previously mentioned, it is always sensible to have some savings to fall back on in case of emergency. On top of this you can also use any savings you accumulate to settle your debts early. If you do this it is likely your overall debt will be paid far faster than by just increasing your monthly payments.
Rather than increasing your payments, saving any extra money you have and using this to settle debts early can be the fastest way to complete your DMP.
Arrange a call with a DMP Expert
Privacy Policy
Your information will be held in strictest confidence and used to contact you by our internal team only. We will never share your details with any third party without your permission.