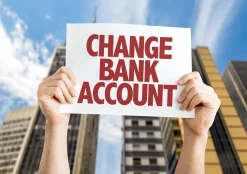 You may need to change your bank account before starting an IVA. If so you will need decide which bank to choose, the type of account to open and when to start using it.
Want help to start an IVA? Give us a call (0800 077 6180) or complete the form below to speak to one of our experts
Do I need to open a new Bank Account before starting an IVA?
If you are starting an IVA you may have to open a new Bank Account. Your new account options will depend on your credit rating. Will you be able to have a debit card with your new account? To find out more please visit: http://beatmydebt.com/self-help-guides-resources/bank-account-debt/how-to-get-a-bank-account-if-starting-an-iva
Do you need a new Bank Account when starting an IVA?
You are allowed to have a Bank Account if you are in an IVA. You can have your income paid into it and pay your regular living expenses from it. In addition you will need to set up a standing order to ensure your IVA is paid on time.
However if you owe money to your current bank this debt will normally be included the Arrangement. Where this is the case you will need to change your account.
Changing your bank account ensures your money is protected against the banking set off rule. This allows a bank to help themselves to money in your account to pay other accounts with them which are in arrears.
The only time you will not need to change your account is if you do not owe anything to your bank or the debt owed is not going to be included in your IVA.
Which bank should you choose for an IVA?
If you need a new bank account the first thing to think about is where to open it. The only restriction is the bank must be totally unrelated to any of the debts you plan to include in your IVA.
By choosing an unrelated bank you ensure that any income deposited into the new account is always protected from the set off rule.
Set off applies between banks in the same Banking Group. As such when choosing a new bank make sure you pick one which is not in the same Group as others you owe money to.
Table 1 below shows which banks are members of which Banking Groups.
The HSBC banking group will normally not allow you to have an account with them if you are in an IVA. This is whether you owe money to them or not. As such this banking group is normally to be avoided.
Table 1: Banking Groups in the UK
| | |
| --- | --- |
| Banking Group Name | Member Banks |
| Lloyds Banking Group | Lloyds; Halifax; Bank of Scotland (BoD); Intelligent Finance (IF) |
| RBS | RBS (Royal Bank of Scotland); NatWest |
| Santander | Santander; Alliance & Leicester |
| HSBC | HSBC; First Direct |
| Nationwide | Nationwide |
| Co-Op | Co-Op; Smile |
| Barclays | Barclays |
| Metro Bank | Metro Bank |
| TSB | TSB |
| Yorkshire Bank | Yorkshire Bank |
Should you apply for a Current or Basic Bank Account?
Once you have decided which bank to use you need to decide which type of account to apply for. There are two options. Either a Current Account or Basic Account. The one to go for depends on your current credit rating.
Current Accounts offer credit facilities such as an overdraft or credit card. Basic Accounts do not offer these facilities.
If you are have not missed any debt repayments so far it is likely you have a good credit rating. If so you can apply for a Current Account if you wish. However you should decline the offer of a Credit Card.
If your credit rating is poor you are not likely to qualify for a Current Account. You will need to apply for a Basic Account. These are free with most banks and come with a Debit Card and internet banking.
The banks on the list below provide basic bank accounts and should be able to help you:
Barclays – Basic Account
Co-Op – Cash Minder
Yorkshire Bank – Ready Cash
Clydesdale –

Ready Cash

Santander –

Instant Plus

Halifax/BoS

– Easy Cash

Nationwide – Flex Basic
Lloyds

– Card cash

NatWest –

Step Account

RBS

– Key account

Virgin – Essential Account
When do you start using your new Bank Account?
You should open an new bank account before your IVA starts and begin using it straight away. You should change your bank details with anyone who pays you money to ensure payments go into your new account.
Do not worry if it is too late in the month for your employer to pay your wages into the new account. If they go into your old one simply transfer the money to your new account once it is received.
You should transfer the same amount to your new bank account as was paid to you. Do not worry if this means going into your overdraft facility. Any outstanding overdraft in your old account can be included in your IVA.
You will also need to make sure any Direct Debits you have set up for living expenses payments that you must continue to pay are changed to your new account. Some banks will do this for you.
Arrange a call with an IVA Expert
Privacy Policy
Your information will be held in strictest confidence and used to contact you by our internal team only. We will never share your details with any third party without your permission.