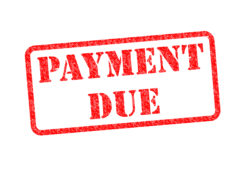 If you are in a DMP you could miss payments to give you a little extra cash in your pocket. However you should be aware of the possible consequences and options if you can't pay your DMP.
Included in this article:
Rather speak to a person? Call 0800 077 6180 or fill in the form below and we'll call you
What will your creditors do if you miss payments from your DMP?
Where you have been making agreed payments into a Debt Management Plan (DMP) for 6 or so months, most of your creditors should stop or at least reduce their interest charges.
If you now miss payments for whatever reason your creditors will treat this as you breaking the agreement. As a result it might mean that they start to add interest again or even restart collections action.
The reaction of your creditors will depend on the number of payments you miss. If it's just one there may not be any reaction from the at all. However they are increasingly likely to take further action if you miss more.
If you can't pay your DMP and need to miss more than one of your payments it would be sensible to agree a payment break. Your debt management company should be able to arrange this for you.
How will your DMP company react if you miss payments?
Where you are using a commercial debt management company and you miss payments, this should not cause a significant issue. Once you start paying again they will normally be happy to speak with any creditor who starts to add interest to ensure this is stopped as soon as possible.
There could be a problem if you are working with a debt management charity such as Step Change and stop paying without prior agreement with them. They might then say they have to cancel your plan.
Whether you are using a commercial company or charity, most debt management organisations will allow you to miss payments if you agree a payment break with them in advance. They can then warn the creditors and ensure no further actions are taken against you during this time.
If you miss DMP payments and the charity you are working with will not continue to help, you can always start a new plan up again with a commercial company.
Will your DMP be extended?
At the end of the day if you are in a debt management plan it is always in your self interest to keep up with your monthly payments. If you miss any, your debt still remains and still has to be paid.
The length of your plan will be extended by the number of payments you miss. So if you miss three payments they will have to be added at the end. It simple means that the length of your overall plan will increase.
Once you are in a position to start you payments you can reduce the time it takes to repay what you owe by increasing the payments you make. When this is not possible you should also consider an alternative solution such as an IVA which would limit the time you have to repay your debt to 5 years.
Worried that your debt management plan will last too long? Give us a call (0800 077 6180) or complete the form below to discuss your options.
Arrange a call with a DMP Expert
Privacy Policy
Your information will be held in strictest confidence and used to contact you by our internal team only. We will never share your details with any third party without your permission.