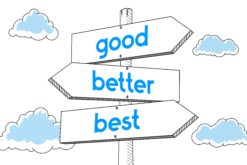 There are different ways to get out of debt. The best debt solution for you will depend on your personal situation and attitude to becoming debt free.
Included in this article:
Rather speak to someone? Call 0800 077 6180 or fill in the form below and we'll call you
Is a Debt Management Plan the best debt solution?
A Debt Management Plan (DMP) reduces the amount you pay your creditors each month to fit within a budget you can afford. You can almost always use this option as long as you can afford a reasonable monthly payment.
It is the most flexible debt solution because it is not legally binding. You can change your payments relatively easily and stop the Plan at any time. As such it is very good if you only need a short term solution.
In addition you do not have to touch the equity in your house. You can also keep any windfalls you receive during the Plan. If you are expecting to get a lump sum of any sort in the near future you do not have to use it to repay debt if you don't want to.
A major disadvantage of a DMP is the time it lasts. This can be 10 years or more so it often feels like you will never be debt free. Where your Plan is likely to last longer than 5 years it might be better to consider an IVA.
What about an IVA?
A significant of an IVA (Individual Voluntary Arrangement) is that it is normally based on single affordable monthly payments. These last for 5-6 years after which any debt not paid is written off. As a result you will often be debt free far sooner than if you had used a DMP.
That said, the Arrangement is inflexible. If you earn more you have to pay more (the plan does not end early). As a result it is difficult to save money for other things. You also have to give up any windfalls you receive. As such it may not be ideal if you are expecting inheritance or compensation in the near future.
Where you are a home owner your property is protected from your creditors. However you will have to agree to release equity if you can to increase the amount you repay them.
Money owed to HMRC can be included in an IVA. It can therefore be a better option than a DMP if you are self employed or a company director and have this type of debt.
Could Bankruptcy be right for you?
People often think Bankruptcy must be the worse possible option for dealing with debt. However it can offer some real benefits. If you can't afford to, you don't have to make further payments towards your debts. They are simply written off after 12 months (as long as your circumstances don't improve).
If your renting your home is not at risk as long as you continue paying your rent on time. Your landlord will not be told unless you have significant arrears. You can keep your car as long as it is worth £1000 or less.
You will normally have to avoid Bankruptcy if you are a home owner with equity in your property or if you have an expensive car you want to keep. In these circumstances you are likely to be better off using an IVA.
Want help to decide the best debt solution for you. Call us (0800 077 6180) or complete the form below and we'll call you.
Arrange a call with a Debt Management Expert
Privacy Policy
Your information will be held in strictest confidence and used to contact you by our internal team only. We will never share your details with any third party without your permission.